Pornstar Info
Videos with Abigail Mac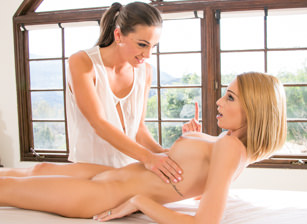 Description :
We join Abigale Mac as she starts her day off right with some weight training. Her expert massage techniques rely on a great deal of arm strength. But, when the gorgeous, Erica Fontes enters the gym, she can't take her eyes off the tall beauty. Being the sneaky masseuse she is, Abigale slips a free massage certificate into Erica's bag, hoping she'll come to get an expert manipulation.Months later, Abigale is surprised to see the gorgeous Erica walk into her spa. Soon, Erica is laid out on Abigale's table, waiting for her massage. Erica's professionalism is met right away with her care for her patients, and Erica is the recipient of Abigale's most important treatments. You can hear Erica moan at the tip of Abigale's expert fingers. Abigale leaves no kink untreated.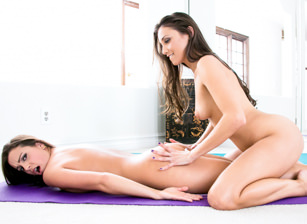 Description :
Celeste is an expert yoga practitioner, but it's not her only valuable attribute. Her private lessons are the talk of the town, and it's important for Abigale to have the one on one experience. As the lesson continues, both beauties show their perfect bodies, and their incredible state of relaxation, until Celeste suggests they try a more complicated stretch, resulting in some severe leg pain. Celeste is an expert massage therapist, and helps Abigale fix her leg with some stretches and rubbing. Abigale soon has Celeste intimately massaging her thigh, grabbing her muscles with her hands, and starting to work out Abigale's kinks. Celeste recommends a full body massage, and Abigale is excited to comply. Luckily Celeste also recommends they do it in the nude, as not to get oil stains on their clothes. Abigale enjoys every second of Celeste's massage, and when things heat up, you'll see things you won't want to forget anytime soon.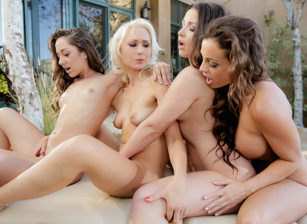 Description :
In a cabin where lust hides in plain daylight and ghouls haunt the creaking shadows, three innocent aspiring masseuses are on the all girl massage retreat of a lifetime with their rather foxy massage teacher. Natasha Voya feels like an outcast immediately, having to wait for her massage. Even when the second day comes around she's again the one who has to watch and learn. After losing her shit being freaked in the Jacuzzi, she's really not interested in just watching. She looks for something else to do. But, when she does, terrifying things just keep on happening to her. Once again, Natasha is frozen with the willies after seeing this ghoul who keeps showing up and terrorizing her.

Abigail has a sneaking suspicion about Lola Foxx and Remy LaCroix but doesn't want to bring it up without the proper evidence. Abigail sends Lola and Remy outside to wait while Natasha goes to see what Lola and Remy have been up to during the massages. After searching through everything Lola and Remy own, Natasha finds that they both had the ghoulish mask, and didn't intend on telling a soul. When confronted, Lola tries to make a silly excuse, but Abigail sees right through Lola's bat filled belfry pointing out that if they want to get closer, there are much better ways. You can just imagine what the gorgeous instructor thinks they can do to get a bit closer.
Categories :
Blonde
,
Brunette
,
Masturbation
,
Natural Tits
,
Fingering
,
College
,
Lesbian
,
Massage
,
Group Sex
,
Oil
,
Bubble Butt
,
ass massage
,
foursome
,
hd porn
,
kissing
,
rimming
,
pussy eating